While I visited the Kunsthalle in Hamburg a while ago there was some kind of art class going on. The woman on my painting participated in this class and is trying to copy a painting by Felix Vallotton.
This painting The Abduction of Europe has a mythological theme. The naked lady is Europe who's been seduced by Zeus transformed into a bull. As the story goes he dragged Europe into the sea and brought her to Crete where she became the first queen of that island. Ultimately the whole continent got named after her.
I don't know if the woman on my painting finished her version of the painting, but of course I did so. I love the blue and purple colours, it makes the painting by Vallotton really pop out.
kind regards, Gerard Boersma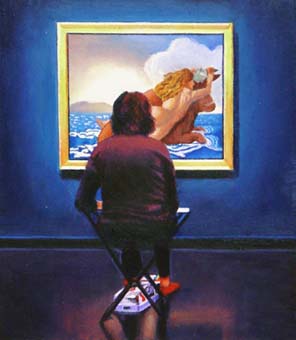 The Bull
G. Boersma
acrylics on masonite
9.9" x 8.7", 25,2 x 22 cm
2008