Thank you all so much for your best wishes last friday, I appreciate it! I had a great birthday, I spent it with my girlfriend and family, which was just excellent. Also thanks to everybody who's participating in my
special birthday action.
. I'm honoured to get all your motivations to win my paintings The Bull and/ or Holy Water. Some really touched me and others just made me smile. I will have a hard time selecting the winners. Please click
here
here if you wish to participate or to learn more about my
special birthday action
My special action has also been picked up by the media. Last thursday you could hear me on Radio Assen and friday on Radio Mercurius. Who knows maybe there's even more to come!
After all the festivities, it's feels good to back in the studio. Todays painting is another still life, this time of those machines you use for online banking. I hope you enjoy it!
kind regards, Gerard Boersma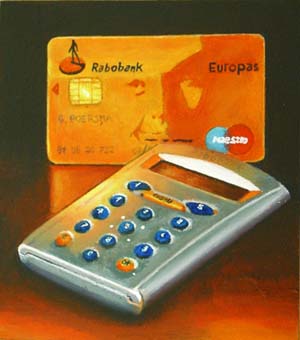 Online Banking
G. Boersma
acrylics on masonite
6.7" x 6", 17 x 15 cm
2008
SOLD
Larger sized image
www.gerardboersma.blogspot.com