The paintings I love best by Vincent van Gogh are his landscapes. Those are usually very colourful, bright and just plain beautiful. The man on my painting is looking at one of them and it sure was great fun to paint! If you would like to have this blogpainting just click on the link beneath the painting to place your bid. You'll receive the painting safely packaged after a week up to days after the auction ends.
In other news I'm busy framing my paintings for my upcoming one man show at Galerie Van den Berg in my hometown Leeuwarden. It's going to be a good one, I can tell you. There's still time left to enter my
special birthday action.
Next week the winners will be announced!
kind regards, Gerard Boersma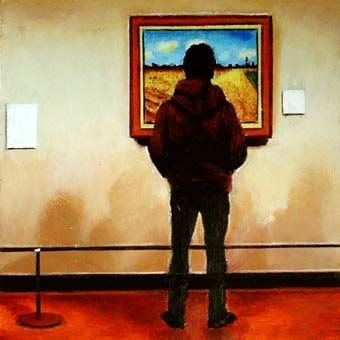 Landscape
G. Boersma
acrylics on masonite
6" x 6", 15 x 15 cm
2008
SOLD

Larger sized image