I had so much fun painting those glasses of Coca Cola and Pepsi recently that I couldn't resist painting another one. Todays painting has a Coca Cola glass on it as well, but it is a different glass. I also made the background a little bit more green, the contrast with the reds of the glass just works very well I think. Have a great weekend and I'm looking forward receiving your motivations for my
special birthday action.
kind regards, Gerard Boersma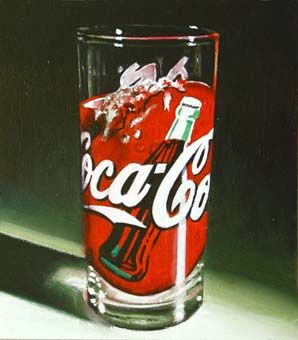 Coca Cola
G. Boersma
acrylics on masonite
6.7" x 6", 17 x 15 cm
2008
If you're interested in purchasing this painting just send me an
email
stating the title for more information and price. I'm looking forward to hearing from you!
Larger sized image
www.gerardboersma.blogspot.com