Thank you all for all your nice comments on the cover of the Leeuwarder Courant! As promised here's todays painting!
While I was in New York for my show in Soho I often took the subway to get around town. While waiting for my own train I saw this scene right in front of me. The train is about to close its doors and is almost ready to leave. People are getting aboard in the nick of time and as always the train is crowded. It always intriques me when people are put together in places with other people they don't know. I often wonder what they're thinking of, especially the Asian woman in the middle.
Due to the holidays this is the only painting I'm putting online this week. I'll be back next week. Merry Christmas and a happy newyear!
kind regards, Gerard Boersma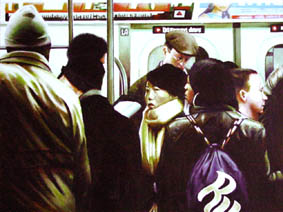 The Subway
G. Boersma
acrylics on masonite
11.8" x 15.7", 30 x 40 cm
2007
SOLD