It's here! My painting 'The Exception' is printed on the cover of the Christmas Special of the Leeuwarder Courant. It feels really good to see my painting printed in that many copies (about 100.000) and I'm very happy about the results!
As I mentioned earlier the theme for the Christmas Special is 'exception' and so is my painting. On my painting you can see an old lady in front of a cash-machine at night. You hardly see any women alone on the streets in Holland at night, let alone an old lady. She doesn't feel threatened in any way though, she feels safe enough to even use the cash-machine. A device the elderly usually love to avoid. As you can see, she's a real exception in many ways!
The original painting is available for purhase, but giclées are available too. Those are high quality reproductions on paper made with the computer. Once finished one can hardly tell the difference between the original and the giclées. The giclées are signed and numbered and are available in a limited edition of just 100 for only 50,- euro each. The giclées come with a certificate of authenticity and are the same size as the original painting, 60 x 45 cm or 23,6 x 17.7". You can order your giclée directly from the Leeuwarder Courant by writing to: Redactiesecretariaat Leeuwarder Courant, Sixmastraat 15, Postbus 394 , 8901 BD, Leeuwarden. By phone 0031 (0) 58 2845655 or by email
redactiesecretariaat@leeuwardercourant.nl
or just send me an
email.
I would be happy to forward your order for you.
Due to the holidays I'm only able to publish one new painting this week, but the painting will be a bit larger in size and I promise you it's going to be a good one as you can see for yourself tomorrow!
Merry Christmas and a happy newyear!
kind regards, Gerard Boersma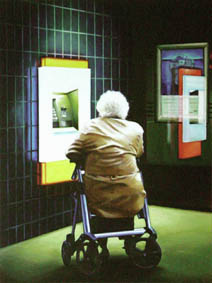 The Exception'
G. Boersma
acrylics on masonite
23.6" x 17.7", 60 x 45 cm
2007
Larger sized image
www.gerardboersma.blogspot.com