I love to take a walk at night after a hard day of work.
On one of my walks I saw this big giant rising up against
the skyline in my hometown Leeuwarden. Of course I saw
the Avero Tower before, you have to be blind not to see it.
In fact on a clear day the whole province can actually see it,
but I never saw it in this light. I'm usually not a landscape
painter, but this view I couldn't resist. I just love the
lights and the reflections in the water. For people who have
been to my hometown, the view is taking from across the park
Prinsentuin near the statue of Us Mem. It's the first oddment
painting on this blog and I hope you enjoy it as much as I
did painting it. Have a nice weekend!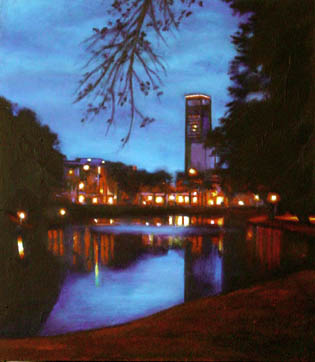 The Avero Tower, G. Boersma, acrylics on masonite, 25,2 x 22 cm, 9.9" x 8.7", 2007


SOLD

info@gerardboersma.nl