I love to read and it comes to no surpise that you might find me in a bookstore somewhere. I recenlty saw this lady looking at some magazines. I really love the lighting in this one. It gives the painting this magical atmospere which is emphasized by the fact that we don't know what she's reading.
The painting is ready to go, so you can expect it within a week to 10 days after the auction ends. Bidding starts at only one dollar. You will receive the painting safely packaged and ready to frame or simply displayed on a small easel. Please be reminded that the colors may slightly vary due to a digitalcamera's results and depending on your monitor.
I hope you enjoy this painting and the paintings ahead. If you wish to be informed about all my paintings, you can subscribe to my blog. Each painting's entry includes a direct link to the auctions. Bidding on my first blog painting 'The Tram-Stop'ends this sunday!
If you should have any questions, please contact me at
info@gerardboersma.nl
or call me at 0031 (0) 582151276
kind regards,
Gerard Boersma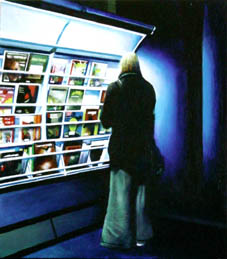 The Magazines, G. Boersma, acrylics on masonite, 25,2 x 22 cm, 9.9" x 8.7", 2007


SOLD