I'm finally in business! The Tram-Stop is the first painting for this blog. The painting shows the tram-stop in front of the central station in The Hague (Den Haag), Netherlands. The building on the back is the Dutch OC & W Ministry building. There are no people in sight, except for the ghost-appearance in the advertisement on the left.
The painting is ready to go, so you can expect it within a week to 10 days after the auction ends. Bidding starts at only one dollar. You will receive the painting safely packaged and ready to frame or simply displayed on a small easel. Please be reminded that the colors may slightly vary due to a digitalcamera's results and depending on your monitor.
I hope you enjoy this painting and the paintings ahead. If you wish to be informed about all my paintings, you can subscribe to my blog. Each painting's entry includes a direct link to the auctions.
If you should have any questions, please contact me at
info@gerardboersma.nl
or call me at 0031 (0) 582151276
kind regards,
Gerard Boersma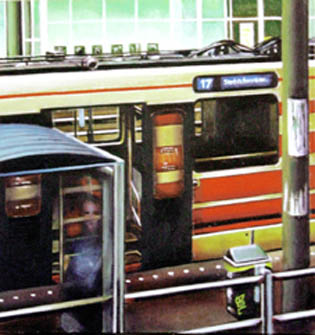 The Tram-Stop, G. Boersma, acrylics on masonite, 25,2 x 22 cm, 9.9" x 8.7", 2007


Sold