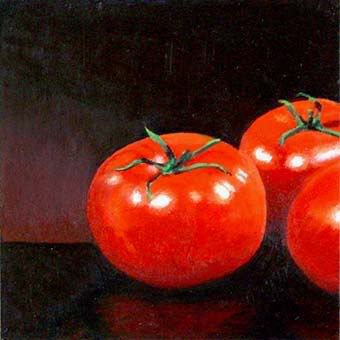 Tomatoes

G. Boersma
acrylics on masonite
6" x 6" or 15 x 15 cm
2010
SOLD

After fininshing yesterdays Paprika I really got in the mood to paint some more food. I always liked the red of tomatoes and thought that just might be a good subject for todays painting.

Painting food is relatively new to me, but painting on such a small scale and still receive such high realism, really makes me wonder why I don't do it more often. It's so much fun to do! I'm pretty quick too, I painted todays tomatoes within one hour, believe it or not!
kind regards, Gerard
webshop
info@gerardboersma.nl
www.gerardboersma.blogspot.com