First painting of 2010! It looks like the figures on the triptych by Robert Longo are dancing. They're really not according to the title Longo gave this piece: Man Trapped in Ice.
My figure just sits there looking, doing nothing but enjoying soom good art. He looks immobile, but the true immobile figures can be found on Longo's piece. I find this contrast quite intereseting. It shows that there's more than meets the eye and you cannot really trust your first impressions.
By placing the bench offcentred I tried to emphasize the dancing and swinging element of Longo's figure into the total composition.
Together with Conqueror and Nuts from my series about the Rubell Family Collection Swing can be seen at the
LA Art Show
in Los Angeles from 20-24 january. The grand gala opening is tonight!
kind regards, Gerard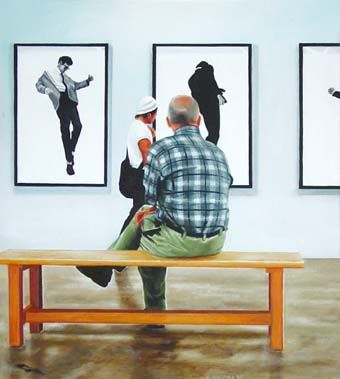 Swing
G. Boersma
acrylics on masonite
17.3" x 15.6" or 44 x 39,5 cm
2010
SOLD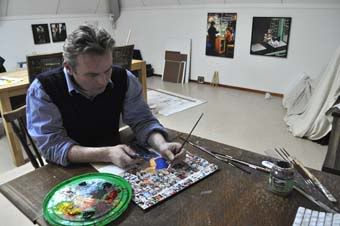 Me in my studio
On this picture you see me in my studio working on Conqueror. As you notice I'm working flat on a table, with multiple brushes at the same time. The green palette I use is actually a plastic lit of an old bucket of latex paint. I have that one since I first started out, I cannot imagine making a painting without it! In the back you see my paintings The Corner and Lunch Break, the smaller ones in the back are Elevator and Pizza. The brown and white wooden panels are panels waiting to be painted, I always have a couple of them in stock.
Larger sized image
www.gerardboersma.blogspot.com