I completed the commissioned painting I was talking about last week! It turned out great, but unfortunately I cannot show it to you yet, the painting is a surprise gift.
But I do have
Verizon
to show you. The painting is a street scene I witnessed at the Santa Monica Promenade in Los Angeles. I think it's my favourite street there. I love the colors and shadows of the telephone booth by Verizon, after which I entitled the painting.
In other news, tomorrow we celebrate Liberation Day in the Netherlands. A lot of artists perform during the festivities and I think they're performing right next to my studio. At this moment some guys are putting fences around my building. I was planning to paint tomorrow, but right now I'm not sure if I can even enter my studio at all. We'll see how that goes!
kind regards, Gerard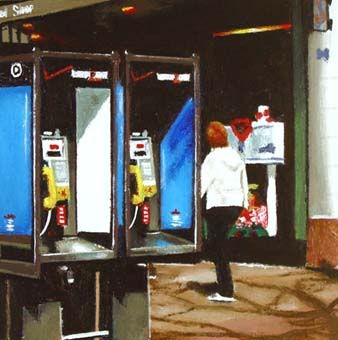 Verizon
G. Boersma
acrylics on masonite
6" x 6" or 15 x 15 cm
2009
SOLD
Larger sized image
www.gerardboersma.blogspot.com