The short break from my daily paintings last week worked well for me. I'm full of inspiriation and I'm seeing things fresh again, like todays painting of one of our citybuses owned by a company called
Connexxion
. I really like the scene through the windows, it makes a wonderful composition. Glass is always quite hard to paint, but I do believe I'm getting the hang of it now, putting one transparant layer over the other.
I recently made a profile on
Linkedin
as well as on
Facebook
. If you happen to have have a profile there too, I sure would love it if we could connect there!
kind regards, Gerard Boersma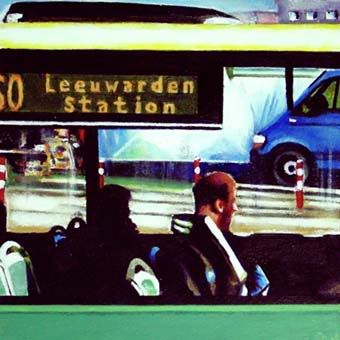 Connexxion
G. Boersma
acrylics on masonite
6" x 6", 15 x 15 cm
2008
If you're interested in purchasing this painting just send me an
email
stating the title for more information and price. I'm looking forward to hearing from you!
Larger sized image
www.gerardboersma.blogspot.com