Last year I made a daily painting of a muslim girl taking an escalator. Ever since I wanted to do a larger scale painting of it, but never got to it. I finally did so and I'm very satisfied with the results. The scene was kind of tricky to paint with the unusual perspective and all. Very confusing at times and I had to make several corrections while painting, but I finally managed it. Bullseye will be shown for the first time during my open studio.
kind regards, Gerard Boersma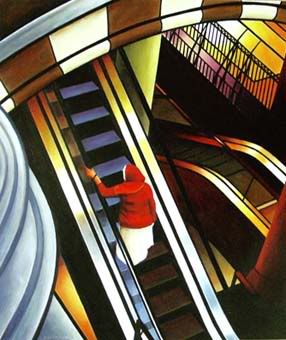 Bullseye
G. Boersma
acrylics on masonite
20.4" x 17.3", 51,8 x 44 cm
2008
If you're interested in purchasing this painting just send me an
email
stating the title for more information and price. I'm looking forward to hearing from you!
Larger sized image
www.gerardboersma.blogspot.com