Today painting is slightly reminiscent of a painting called
The Bus
I did earlier this year. That painting showed the front of the bus, I now concentrated on the back of it with two men waiting for their bus to show up. I can tell you it was quite difficult to get all the reflections in the window just right, but I think I managed it quite well.
There's still some time left to send in your motiviations for my special birthday action where you can win my painting Holy Water or The Bull, please click here for more information:
special birthday action
Last but not least, I've got a one man show coming up real soon at Galerie Van Den Berg in my hometown Leeuwarden. More info follows!
kind regards, Gerard Boersma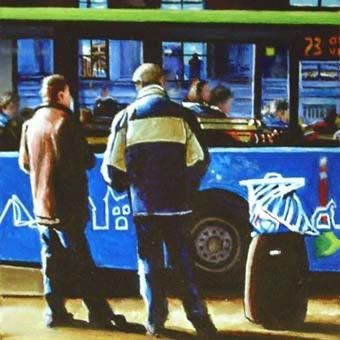 The Bus-Stop
G. Boersma
acrylics on masonite
6" x 6", 15 x 15 cm
2008