Today an article about me appeared in Zakenspiegel, a prestigious magazine for business people in my region. Of course I'm very pleased with this as you can imagine! I haven't seen the article yet myself, but I heard it's spread over two pages, complete with pictures. Cannot wait to see it!
The article is written by
Anne Feddema
, a fellow artist from my hometown Leeuwarden whom I greatly respect. When Anne saw my blogpaintings of people in museums he immediately commisioned me to paint todays painting. This piece is one of my most surrealist works up to date. You see the wanderer from the painting by Casper David Friedrich looking at his own painting. I thought the effect of this is quite funny, I sure hope you agree!
kind regards, Gerard Boersma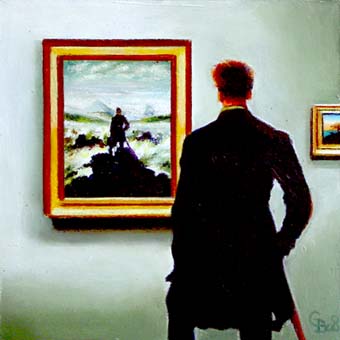 Wanderer for his Painting
G. Boersma
acrylics on masonite
6" x 6", 15 x 15 cm
2008