Just two days to go before my open studio takes place! I'm really looking forward to that. All the pieces are framed and I know exactly where to hang them. There's a lot to see too, no less than 32 paintings! Tomorrow I will post a link to a survey of all of them complete with my personal comments.
Among them is todays painting The Iceberg. In the Kunsthalle in Hamburg hangs this masterpiece of a shipwreck by Casper David Friedrich. The ship itself is covered by the man, but you sure can see the great ice landscape. I just had to paint that!
I hope to welcome you as a guest this weekend!
kind regards, Gerard Boersma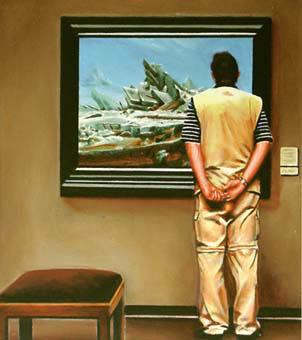 The Iceberg
G. Boersma
acrylics on masonite
13.8" x 12", 35 x 30,6 cm
2008