Two women are looking at a painting of a wheelbarrow by my relative Jopie Huisman in his own museum. For me Jopie also has been somewhat of a wheelbarrow, he's one of my favourite painters and indirectly inspired me to paint in the first place. At times I wish he could have seen my works, but unfortunately he died before I picked up painting professionally. Luckily his paintings are there for all to see!
Today Laura Sweet wrote an article on her blog 'If it's hip, it's here' about artists who paint people admiring art. She was kind enough to include some of my paintings, you can read the article
here
Tomorrow me and my girlfriend are going away for a couple of days to Hamburg. I'm really looking forward to my short vacation. So no paintings next week, but I'll be back in full effect on monday the 5th of may!
kind regards, Gerard Boersma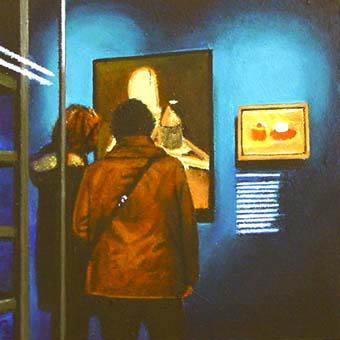 The Wheelbarrow
G. Boersma
acrylics on masonite
6" x 6", 15 x 15 cm
2008