As I told you recently I just became a new member of the
Daily Painters Gallery.
Likewise my new studio it really inspires me and I decided to become a real daily painter. This means that from now on I will post a new painting every single day. Yes, every single day, including the weekends!
For starters here's todays painting 'The Clothing Store'. I hope you enjoy the painting as much as I did painting it and I hope to see you again tomorrow!
kind regards, Gerard Boersma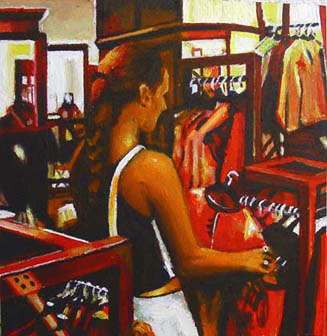 The Clothing Store
G. Boersma
acrylics on masonite
6" x 6", 15 x 15 cm
2008