Yes I know I told all of you that I wouldn't post any new paintings this week due to my vacation, but I had some time left and I just couldn't help myself.
I always wanted to make a painting of somebody looking at art, I finally did so. The painting expresses my love for art and of course the rose is a symbol for this. The lovely lady is looking at a painting by Piet Hein van Asperen, a not so well known Frisian painter but a very good one. I had a great time painting this one and I think I'll make a larger sized painting of it as well.
Tomorrow I'm going on vacation to Valencia Spain which I'm really looking forward to. I'll be back next week!
kind regards, Gerard Boersma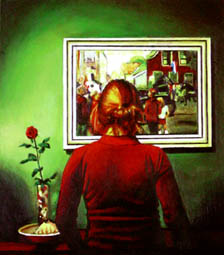 The Lover
G.
Boersma
acrylics on masonite
8.7? x 9.9?, 22 x 25,2 cm
2007
SOLD