Pisa isn't the only town with a crooked tower, my hometown Leeuwarden has one too! It's called the Oldehove and stands about 40 m. tall and about 1.69 m. crooked. Construction started in 1529 but was soon abanded when the tower started to sink in the ground. The people of Leeuwarden were left behind with an unfinished tower.
As a painter from Leeuwarden you just have to paint our landmark at least once. I decided to go for a night scene. The little building on the left is one of the entrances of the newly build car park beneath the ground.
Next week I won't be able to post any new paintings. I'm going on vacation to Valencia, Spain for a couple of days! I'll be back in business on november 19.
kind regards, Gerard Boersma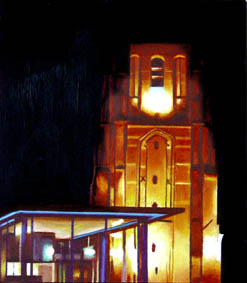 The Oldehove
G. Boersma
acrylics on masonite
9.9" x 8.7", 25,2 x 22 cm
2007
SOLD

Larger sized image