Just like yesterday I got another larger sized painting for you today. If the scene looks famliar, you're right. It's the larger sized version of my daily painting Sea which I made recently. I have made a lot of museum-scenes, but never on a larger scale. I thought the Rothko painting was a good start. Painting larger allows me to add more detail which always makes the paintings more sharper. I defenitely like that.
Tomorrow morning I have to pay my doctor a visit, nothing serious but I'm not sure if I can paint afterwards, I sure do hope so!
kind regards, Gerard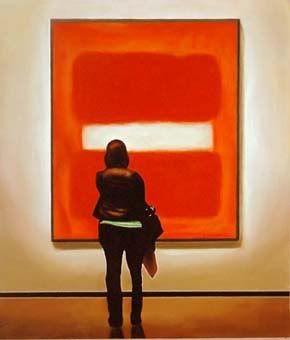 Sea
G. Boersma
acrylics on masonite
27.6" x 24" or 70 x 61 cm
2009
If you're interested in purchasing this painting just send me an
email
stating the title for more information and price. I'm looking forward to hearing from you!
Larger sized image
www.gerardboersma.blogspot.com