If you have been wondering why I'm not posting daily, well I have been hard at work building a brand new
homepage.
I felt I could use a new look for a while now and finally did so with the help of my friend and fellow artist Alexander Russchen of
Art-Oddities.com.
I designed the lay-out and he helped me a lot with the technical side. Thank you Alexander!
The content on
www.gerardboersma.nl
is about the same, but the paintings are way larger than before. A lot of people complained about the small thumbnails and you were all right. The larger images do my art justice. Feel free to share your comments or suggestions. I'm looking forward hearing from you.
Just to celebrate I got a special offer today for my painting Savoy. For just 100,- euro you can be the proud new owner! All you got to do is
email
me if you're interested. The painting goes to the first emailer, hopefully it's you!
In other news, tomorrow broadcaster Omrop Fryslan will interview me about the LA Art Show. An item on television will follow soon. Tomorrow I also got to bring my paintings to Joure for my solo-show in the Gemeentehuis. I'll be back this thursday with a brand new painting!
kind regards, Gerard Boersma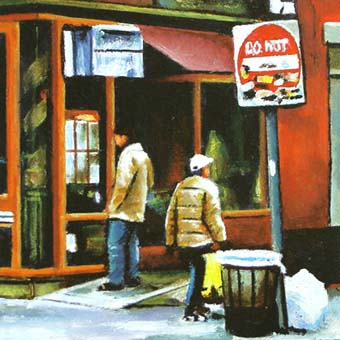 Savoy
G. Boersma
acrylics on masonite
6" x 6", 15 x 15 cm
2008
SOLD

Larger sized image
www.gerardboersma.blogspot.com