Inspired by yesterdays painting of a man placing a telephone call late at night, todays painting The Call also shows somebody in a phonebooth at night. The phonebooth is now located in my hometown Leeuwarden near the trainstation. The painting has the same meaning as The Distance. I sure hope you enjoy this painting as much as I did painting it!
kind regards, Gerard Boersma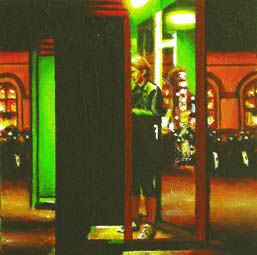 The Call
G. Boersma
acrylics on masonite
4" x 4", 10 x 10 cm
2008
SOLD
If you're interested in purchasing this painting just send me an
email
stating the title for more information and price. I'm looking forward to hearing from you!
www.gerardboersma.blogspot.com