The show in the Amstelchurch has ended and today I went to pick up my paintings in Amsterdam. I spent the most of my time in the train today. The Dutch trains are famous for their delays nowadays and today wasn't any different. I was hoping I could squeeze some painting time in and finish a painting today, but no such luck. Oh well, tomorrow I defenitely finish it. Hold on till then and in the meantime enjoy Max.
kind regards, Gerard Boersma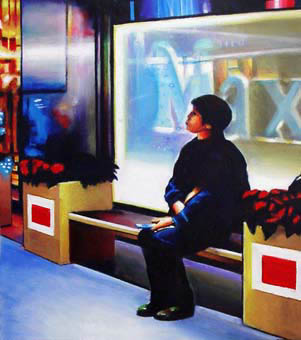 Max
G. Boersma
acrylics on masonite
9.9" x 8.7", 25,2 x 22 cm
2008
If you're interested in purchasing this painting just send me an
email
stating the title for more information and price. I'm looking forward to hearing from you!
Larger sized image
www.gerardboersma.blogspot.com