Shopping malls are always very inspirational for me as a painter. A lot of people are busy buying stuff, but every now and then you see a person whos just sits down and enjoys the scenery. The woman on my painting is just doing that. There's a lot to see as well, a lot of shining things all over the place. The painting is situated in
Japan
and is part of my series about the land of the rising sun.
kind regards, Gerard Boersma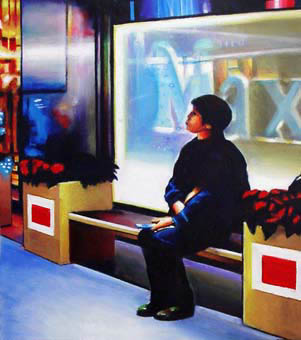 Max
G. Boersma
acrylics on masonite
9.9" x 8.7", 25,2 x 22 cm
2008
If you're interested in purchasing this painting just send me an
email
stating the title for more information and price. I'm looking forward to hearing from you!
Larger sized image
www.gerardboersma.blogspot.com