Like I said yesterday, I tried to get a cab over and over again. This one didn't stop either. I bought a metrocard on the spot and went for the subway. Despite my bad experiences with cabs I still had great fun painting this, especially the lights are always a pleasure.
It's museum-weekend, which means a lot of museums in the Netherlands are open for free this saturday and sunday. Today I went to the museum of my relative
Jopie Huisman
with my father and mother. Walking through the museum brought back a lot of memories to my dad. I heard stories I haven't heard before. It's also very strange that so many visitors come to see the portraits by Jopie of my great grandfather and mother. It makes me very proud and I think there are a couple of paintings coming up situated at the Jopie Huisman Museum.
kind regards, Gerard Boersma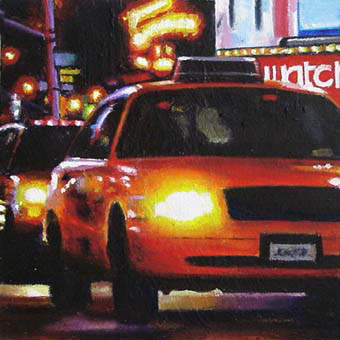 The Head-Lights
G. Boersma
acrylics on masonite
6" x 6", 15 x 15 cm
2008
SOLD
Larger sized image
www.gerardboersma.blogspot.com