Yesterdays radio interview at Omrop Fryslan inspired me for todays painting. You see host Annelies van der Goot talking live on the radio. The big mic on the foreground was the one I talked into during the interview.
Talking about studio's, I heard the strangest story about my own studio. My studio in the former militairy hospital stood empty for over one year and I often wondered why. I thought it had something to do with the rent price, but I obviously thought wrong.
Today my girlfriend handed me an article published in the Leeuwarder Courant in 2004. In this article artists were interviewed about the studio's. A lot of them had experienced very strange things.
Paintings fell spontaneously off the wall, bloodstains appeared and dissappeared just as quickly, footsteps were heard when nobody was there, lights went on and off, just closed windows suddenly stood open again and even a lady was heard singing at the same spot over and over again. It was obvious the artists thought the former militairy hospital was haunted. That's why my studio was empty all this time! Fortunately I haven't experienced any of this yet and I sure hope I don't in the future!
kind regards, Gerard Boersma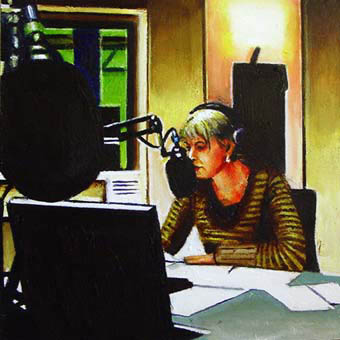 The Studio
G. Boersma
acrylics on masonite
6" x 6", 15 x 15 cm
2008
SOLD

Larger sized image
www.gerardboersma.blogspot.com