A lot of times people ask me what kind of art I like. There are too many artists to mention, but I thought it would be a great idea to feature one of those inspiring artists from time to time in my featured artist post. I start of with Santa Barbara's own
landscape and seascape
artist Paul Leasure.
Originally from Ohio Paul pursued a carreer in in electronics engineering and painting at an early age. He later moved to Santa Barbara where most of his commissions came from and became well known in the area for his wall art, landscapes and seascapes. 'You should feel the mist of salt air lingering amid the vigor of a crashing wave. When I paint, the goal is to capture mood and movement,' Leasure says about his paintings which can be massive in size. One of his works of
wall art
was on a single canvas measuring over 17 ft. x 10 ft. or 510 cm x 300 cm.
The paintings show nature in all its forms. They're always painted in a photorealism style and show the artist skills in color. That is an achievement in itself, but even more so when you know Paul is colorblind from birth. By learning the spectral reflectance values of each of his paints, he renders his colors accurately by employing science. This all leads to beautiful paintings of landscapes and seascapes as you can see for yourself
here
kind regards, Gerard Boersma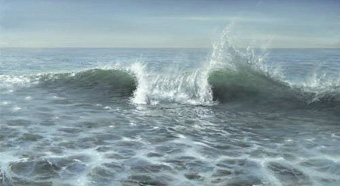 Offshore Breeze, a painting by Paul Leasure

www.lovefineart.com
www.gerardboersma.blogspot.com