Almost everybody has a mobile phone nowadays, but this painting could only work with a public phone. Luckily those are still around too. I wanted to create a painting full of suspense and I think I did a good job here. It looks like the phone could ring any minute from now and you're just happen to be around to pick it up and answer the call.
Last week I finished painting the commission by the Leeuwarder Courant for their Christmas Special. The people at the largest newspaper in my region were excited about 'The Exception' as the painting is titled. Unfortunately you guys have to wait to see it due the publicist rights. High quality reproductions, giclées as they call it, of this painting will be available soon in a limited edition of just 100. Today me and reporter Sietse Singelsma went to
Art Revisited
, the company which will make these giclées. We had the grand tour around the company and it was really interesting to find out how giclées are made. I would like to thank everybody at Art Revisited and I cannot wait to see the giclée of my own painting!
kind regards, Gerard Boersma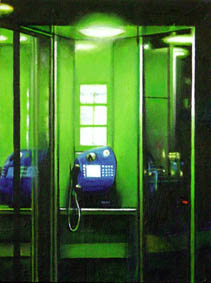 The Telephone
G. Boersma
acrylics on masonite
7,1" x 9,5", 18 x 24 cm
2007
SOLD
Larger sized image