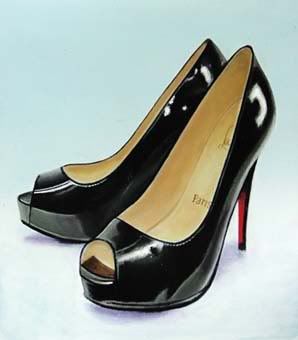 CL 002
G. Boersma
acrylics on masonite
9.8" x 8.7" or 25,2 x 22 cm
2010
SOLD
Not only is this black pair of shoes with high heels by
Christian Louboutin
a luxurious item, but to me it also represents the elite feeling a woman must have while parading the street or attending a party. I can see her on the red carpet right now feeling confident and very special.
kind regards, Gerard
If you're interested in purchasing this painting just send me an
email
stating the title for more information and price. I'm looking forward to hearing from you!
Larger sized image
current ebay auctions
www.gerardboersma.blogspot.com