After concentrating on medium and larger sized work for a while I started to miss my little
daily paintings
. I now return to my 'dailies', which means more frequent updates.
Crossing
is the first one. On the painting you see a woman crossing a street in New York. She's the only one who wants to go to the other side of the street, a rare thing in New York I guess. To me it's also symbolic for choosing your own path. The woman doesn't walk on the far end of the crossing by accident, she has chosen it.
In other news, tomorrow about ten of my paintings will go to Groningen for a groupshow in
Der Aa Kerk
. This former church is located in downtown Groningen and is now used for all kinds of social and cultural activities. In association with
SBK Amsterdam
and
CBK Groningen
my paintings will be shown there from aug 14 untill aug 27. The official opening will take place on aug 15 at 16.00 hours. I would be honoured if you could join the festivities!
kind regards, Gerard Boersma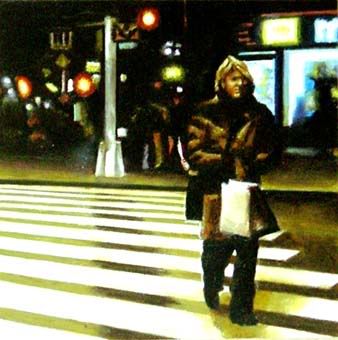 Crossing
G. Boersma
acrylics on masonite
6" x 6" or 15 x 15 cm
2009