This morning when I arrived at my studio I hit the light switch as usual, but no lights went on. I thought they were broken, but when I tried to turn on my computer I discovered I had no electricity. As it turned out the whole building didn't have it. My studio is on the topfloor, somewhat like a large attic, so it was way too dark to paint. Well to make a long story short, there's no new painting today!
kind regards, Gerard Boersma
kind regards, Gerard Boersma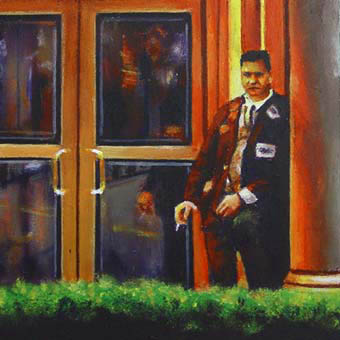 The Stockexchange
G. Boersma
acrylics on masonite
6" x 6", 15 x 15 cm
2008
If you're interested in purchasing this painting just send me an
email
stating the title for more information and price. I'm looking forward to hearing from you!
Larger sized image
www.gerardboersma.blogspot.com