My open studio was great! It's always very exciting for me, but luckily a lot of people showed up and there was never a dull moment. My first guests arrived early in the morning and the last ones left late in the evening, way after official closing time. I'm completely worn out today, but I feel so blessed! Painting can be a lonely profession and I therefore especially appreciate all the feedback from everybody. I got a lot of possitive comments not only on the art, but on the frames as well. I'm defenitely thinking about offering the frames as an additional option for my daily paintings. Thank you so much!
As you can imagine I couldn't find the time to post any new paintings this weekend, but I'm back in my studio now fully motivated and happy to be painting again. Between all the preparations for my open studio last week I managed to make this second version of my larger sized painting The Rest.
Although I might not share his religious believes I have great respect for the man on my painting. In the midst of all the noise and liveliness of New York, the man still finds time to sit down to read his book and take a rest. He's waiting for the bus to show up to take him away to a better place. Leaving all the troubles of the city behind him. I for one could take a rest myself, but really painting is my own little escape and that's exaclty what I would do if I had a week off!
kind regards, Gerard Boersma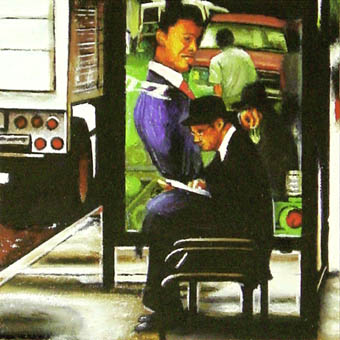 The Rest
G. Boersma
acrylics on masonite
6" x 6", 15 x 15 cm
2008