Our society is aimed at youth I often feel that old folks don't really count in our society. To symbolize this I painted them next to a trash-can, the place where you put stuff you don't longer need. For me the elderly are also a container, not of trash but of wisdom, knowledge or at least life experience. And that's something we youngsters could use, isn't it? That's why I called the painting The Containers, there's more than one of it on the painting.
If you would like to have this blog painting just click on the link beneath the painting to place your bid. The auction only lasts for 10 days and you can expect the painting within a week to 10 days after the auction ends. Bidding starts at only one dollar. You will receive the painting safely packaged and ready to frame or simply displayed on a small easel.
Have a nice weekend!
kind regards, Gerard Boersma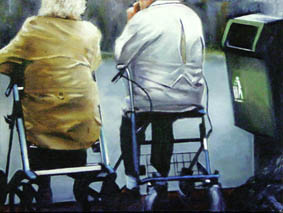 The Containers
G. Boersma
acrylics on masonite
7,1? x 9,5?, 18 x 24 cm
2007
SOLD
Larger sized image
www.gerardboersma.blogspot.com